MUSIC - NOVEMBER
I went to David Byrne's concert at the TSB Arena and it was easily the best "sit down" show I've ever seen. Top five gig period.
As we left, I said to my friend, 'It's like other (non-arena pop) artists aren't even trying.'
BOOKS
An American Marriage by Tayari Jones
(novel, audiobook)
This book made it onto a bunch of end of year lists. It was okay. It's meant to be sweet and harrowing and it kind of is. But a lot of it felt pat. And the different narrators all sounded like they'd done an MFA.
Reading resolution for 2019: not to read anything with "America" or "American" in the title.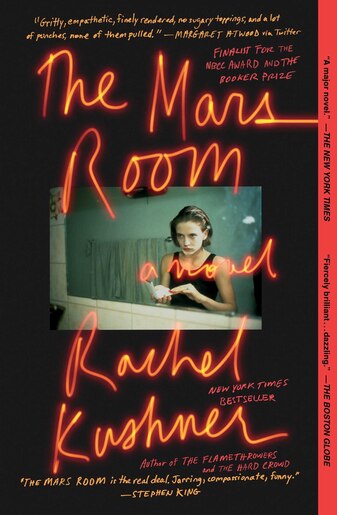 The Mars Room by Rachel Kushner
(novel, audiobook)
This was good. Will it crack my top ten for the year? Not if books published before 2018 count, but among the "new" books, this one was up there.
Kushner does a good job of dealing with gritty subject matter (women's prison, stripping, stalking) without it feeling like disaster tourism or a political football. Like Jones, her narrators did sound similar, but there was enough of a story here to put me in a forgiving mood.
What's your type: the strange history of the Myers-Briggs and the birth of personality testing by Merve Emre
(non-fiction, audiobook)
Another book I saw popping up on end-of-year lists. Coupled with an introduction that promises to expose some skeletons in the closets of the mother-daughter duo who invented the MBTI and some kind of corporate conspiricacy to conceal the truth -- neither of which amount to much (though it was nice to learn the mother wrote homoerotic fanfic about Carl Jung) -- this one didn't deliver against lofty expectations.
Three Men in a Boat by Jerome K Jerome
(novel, audiobook)
Loved it. The funniest book I read all year.
There's not a lot 2018 had in common with 1889, when Jerome's book about a boating trip down the Thames was published, and yet the descriptions of slap-up meals, oversleeping and a less-than-heroic dog still rang true.
Whatever Jerome's intentions were with the passages of purple prose describing the beauty of the river or the signing of the Magna Carta, they were fricken hilarious too.
If you get the tone right, man oh man.
The Future of Humanity by Michio Kaku
(non-fiction, audiobook)
This forms an interesting bookend to my year of reading with Neal Stephenson's
Seveneves
.
Kaku references a lot of science fiction in this work of science fact - although it's more accurate to say science speculation. In seeking to describe what humanity will be like (and where we'll colonise next, and how) in centuries to come, he has to traverse a lot of territory and synthesise a lot of other people's work and theories. I learnt a lot but I've already forgotten more.
I think the narrative thread could have been stronger to hold all the disparate topics together, but it still held my interest.
Sophia of Silicon Valley by Anna Yen
(novel, audiobook)
I downloaded the audiobook without knowing anytihng about it except the cover reminded me of Douglas Coupland and I was in that kind of mood.
There was a slight Coupland vibe to the novel, but in time I began to suspect it was a Roman a clef (there's a Steve Jobs proxy; Elon Musk is called Andre Stark). Turns out Anna Yen worked for both.
In terms of fiction, a lot of it didn't work -- either because there wasn't enough to support the plot points other than
that's how it really happened
, or there wasn't enough distance between protagonist and author (her diabetes is made out to be like an AIDs diagnosis; her rules for life are freighted like gospel).
Oscar and Lucinda by Peter Carey
(novel, audiobook)
I had a dream that a friend of mine was secretly using my Audible account and fessed up by saying he'd stopped now as he'd rather choose his own books -- he found my selections so dull. And he cited this book directly.
Harsh, subconscious!
You know what it probably was? The fact I'd read
about
the novel years ago and had the image of a glass church being barged down a river in mind - the same image that Carey had when he started working on the book - but the way it all worked out didn't compare to the story, or the
feel
of the story, I'd built up over the years.
Nobody can compete with the conception of the perfect, off-kilter novel.
MOVIES &TV
Shoot, I'll be darned if I can remember everything (one does tend to watch crap with the rellies over the Xmas break). Let me have a stab...
Wakefield - the kind of movie you find yourself describing to other people. Check it out.
Nocturnal Animals - a movie about a writer and his ex-wife that doesn't involve a novel being written in the space of a month (it's implied that the novel has taken years!)... thank you Tom Ford.
Synecdoche, New York
The Grinch (2018)
Bullet Head
Three Billboards outside Ebbing, Missouri
Pearl Harbor
Mary Poppins
Fargo - season 3
Bodyguard
MUSIC - DECEMBER
Dimmer
Straitjacket Fits
December's concert was also a goodie: a double bill of Dimmer and Straitjacket Fits at Meow. Shayne Carter had some fun with it, saying how excited they were to open for the Fits. I'd never seen Shayne perform with any band live (or solo), though we did bond over our love of the NBA one weekend in Dunedin in 2017. So it was very cool to see sets from both Straitjacket Fits (which I'm just young enough to say I didn't take much note of when they were current) and Dimmer (which I appreciated at the time but "got into" after that moniker had also been retired).
The setlists (no Andrew Brough songs, for obvious reasons*), the commonality of a number of the performers, and the same setting/sound system, meant the two sets sounded more alike that I was expecting. Dimmer had always had a more electronic, less rock sound to me, but live I witnessed a NZ rock god and was left to wonder where Carter could go from here when he returned to play Straitjacket Fits.
But he did find that extra level.
The carnage was beautiful.
* Instead of a last supper, if I was on death row I might consider requesting a final concert, and for that I'd consider requesting seeing Bike (the band Brough formed after being in the Fits) open for Dimmer and Straitjacket Fits. For starters, good luck Corrections staff finding Brough and convincing him to perform (stay of execution, baby!) and if they did perform, talk about drama! I could die a happy man.